Product Development
·
Stockholm
Sales / Business Developer
From our start in 2015, we have had strong growth, especially in Sweden, and now we are increasing the pace both in Sweden and internationally. We are looking for a talented Sales Business Developer that will join us on this journey! 🚀
About you:
Are you a passionate business developer with a sales background and a desire to expand the horizons of our business unit Translation? This is your opportunity to become a key player in our growth and contribute to shaping the successful business strategies of the future.
As you will be in contact with many stakeholders and collaborate with others on a daily basis, it is important that you have a good ability to collaborate and make contacts both internally and externally, with new and existing stakeholders. We are looking for you who are customer-driven and goal-oriented with a great interest in digital development.
We believe you have a good understanding of agile processes, development and are used to gathering requirements and translating them into technical solutions. With a solution-oriented approach, you can think new and innovative with a clear link to our current and future needs.
Experience in sales and business development.
Strong communication and negotiation skills.
Ability to work independently and as part of a team.
Drive and the ability to manage multiple tasks simultaneously.
About the role:
The role includes analyzing and evaluating our translation business area and determining the future strategy to grow this area, which we believe will provide access to the fastest interpreters on the market but also with the ability to provide customers with access to the best machine translations.
Although interpreting has been the core of DigitalTolk's business, we are now making an ambitious and pioneering move into text translation, both to provide high quality services at a faster pace but also to ensure a high level of profitability.
Identify and evaluate potential business opportunities.
Build and maintain relationships with existing and potential clients.
Develop and implement effective sales strategies to increase the company's revenue.
Collaborate with our team to tailor solutions that meet the unique needs of our clients.
Research market trends and competitors to keep the company competitive.
You will own the full P/L responsibility for the product area: which includes both being responsible for the operational delivery of customer bookings, but also leading GTM/sales initiatives and ensuring that the sales teams deliver an increased volume of bookings in the area.
About us:
DigitalTolk turned the interpretation industry upside down in many ways. Simply because we offer Interpretation-as-a-Service to our interpreters, users and customers. Interpreters in any language, only a click away. We are the only company that has fully automated the matching process for the best and fastest matching. As a result, we have grown from 5,000 interpretations in 2017 to over 350,000 in 2022. We're proud to be able to make a difference in our customers' everyday lives through the services we offer.   
We are a dynamic company where innovation is at the core of what we do. We offer you to be part of an expansive phase in our continued journey.
As a company, we have already received numerous awards and prizes for the way we approach a societal challenge. Named the Gazelle of the Year and Sweden's Fastest Growing Company 2021, one of Sweden's five most innovative Startups, award as one of "Sweden's best companies" and winner of the Swedish Post and Telecom Agency's innovation competition "Best in the industry".
Hungry for more information, check out our career site: https://www.digitaltolk.se/karriar
Get to know your future colleagues: https://www.digitaltolk.se/om-oss


Avdelning

Product Development

Platser

Stockholm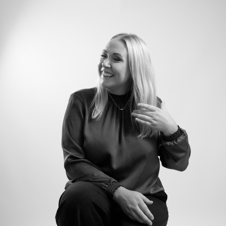 Kontakt
Elin Färnlund
Talent Acquisition Specialist – HR & Rekrytering
Om DigitalTolk
Vi har revolutionerat tolkbranschen sedan 2015. Genom vårt bokningssystem matchar vi automatiskt kundernas unika behov med vårt omfattande nätverk av 6000 talangfulla tolkar och översättare, som kan leverera på över 210 olika språk och dialekter. Oavsett tidpunkt eller tillfälle, kan man alltid lita på oss för rätt kompetens efter sina behov.
Product Development
·
Stockholm
Sales / Business Developer
Läser in ansökningsformuläret